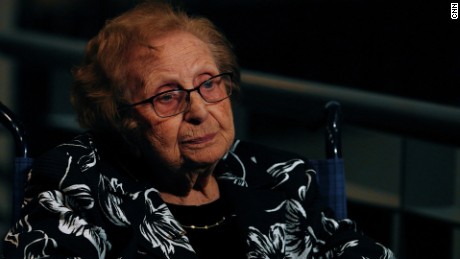 A CNN article written by Barbara Starr posted at 10:41 pm on Friday, March 17 2017 describes how Fanny Aizenberg, 100-year-old Holocaust survivor spoke to 200 students at the US Holocaust Memorial Museum. Aizenberg discussed the recent increase in anti-Semitism and JCC bomb threats, having been the largest and most significant anti-Jewish actions since she experienced Nazi-occupied Belgium. Aizenberg lives next door to a JCC that was threatened, and says the increase in Jewish desecration kills her.
Diane Saltzman, a woman who works with Aizenberg and other survivors at the Museum, says that all the people affected by the bomb threats have adopted attitudes of determination and refusal to give in to these cowardly threats. Survivors of the Holocaust have already experienced the culmination of Jewish hatred, and will not accept the fear these hate mongers try to instill in the Jewish community.
Fanny Aizenberg is an outstanding citizen and deserves widespread respect. She was able to escape the Nazis and Auschwitz, and was able to reconnect with her daughter years after separating during the Holocaust. She has lived an incredibly long life and now the absurd anti-Semitism she experienced nearly 80 years ago is back in a different form. I feel so sorry for her and others like her who still have to worry about threats of violence toward Jews so long after their entire existence was threatened. I initially thought society had made serious progress in history toward acceptance of the Jews, but seeing Holocaust survivors still worrying about safety for their people makes me think society hasn't learned a thing.
http://www.cnn.com/2017/03/17/politics/holocaust-survivor-anti-semitism-bomb-threats/
Starr, Barbara. "Holocaust Survivor Confronts Resurgence in Anti-Semitism." CNN. Cable News Network, 17 Mar. 2017. Web. 22 Mar. 2017.